Indianapolis Landscaping Company With Experience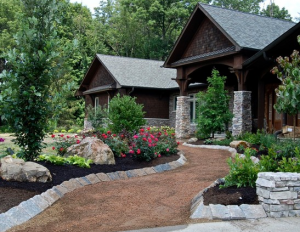 Many Indianapolis home owners who are looking to start a new landscaping project or update their current landscaping, will contact an Indianapolis company that specializes in landscape design-build. Landscape Design is the art of developing property for its greatest use and enjoyment. We have been providing landscape design services to the Indianapolis area for almost 2o years. We provide both your landscape design and installation, unlike some companies who use an outside company to supply one of these services. Not only will this speed the process along, its also much easier dealing with one company then two. We also work with local nurseries and suppliers, which means our costs are competitive and can fit in any budget. Our highly trained design experts are also familiar with which type of plants and materials are available for all seasons for your next landscaping design project!
Outdoor areas seem to be the last part of your Indianapolis property that gets the attention to detail. Why not give your outdoor area a designers touch and add some features that compliment your Indianapolis home. Our designers, can create outdoor areas that have functional purposes and also add a creative touch to your yard. At Country Gardens, we can assist in all of your Indianapolis landscaping design and hardscape needs. We offer a large variety of services for you to choose from.
Here are a few items that we specialize in for your Indianapolis landscaping design needs:
Paver, Natural Stone and Concrete Patios, Travertine Patios
Arbors, Terraces & Pergolas, Pavilion Rooms
Driveways, Walkways & Retaining Walls, Stack Stone
Outdoor Kitchens and Living Areas
Rock & Perennial Gardens
Trees, Shrubs & Plantings
Fire Places & Fire Pits
Ponds, Fountains & Water Features
Sod & Seeded Lawns
Low-Voltage Lighting 
Finishing the Design with Planting
Whether you are installing an outdoor patio, pond, or pergola; adding trees, shrubs or plants will spruce up the area. After a initial consultation, our skilled design staff will also be able to inform you about key items when planting. They are familiar with how tall and wide certain trees/shrubs and plants grow, what area of the yard to plant them and most importantly which require a large amount of maintenance compared to the ones that do not. All of these items are involved in your Indianapolis landscaping design build.
Site's Public and Private Zones
Performing any landscaping design requires not only knowledge of the products and materials, but of the land as a whole. Knowing the site's public/private zones of the area are imperative. When you use Country Gardens for you Indianapolis landscape design needs, you won't have to worry about these types of questions or concerns, because we have the knowledge and do the research on our end. Also, depending on your needs, we will be able to quickly let you know how much land you will need for your Indianapolis landscaping design build.
After meeting and discussing the needs of your landscaping design, we will put the custom image together for you to create the visual design. We will design this for you to view electronically, where it is easy to make any adjustments while we meet. We use state of the art equipment to perform these designs and images, so the vision of your landscaping design needs come to life right before your eyes.
Here is a brief description of the first-rate technology we use for your Indianapolis Landscaping Design needs: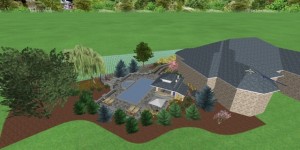 Computer-aided design (CAD) is the use of a wide range of computer-based tools that assist engineers, architects and other design professionals in their design activities. All of our designs are carefully labeled with real photographs of each plant or hardscape material to be used.
Digital Photo Imaging (DPI) is the process of taking a photograph and plugging in real photos of plants, trees, hardscapes from a computer based software. This process allows the customer to have a better understanding of how their landscape will look when completed. No matter the project or vision you have, our experienced staff will turn your yard into the outdoor area of your dreams. This is why you should choose a company that has both the experience in design and installation.
Contact us Today for all of Your Indianapolis Landscaping Needs
At Country Gardens, we are confident that we are your one stop company for all of your Indianapolis landscaping design needs. Contact us at 
317.339.7847
or email us 
[email protected]

.