Many of us take pride in renovating the inside of our homes with subtle changes to make these areas more comfortable and welcoming. Imagine how refreshing it would be to step outside your doors and enjoy a beautiful outdoor living space. If you live for the warm weather, don't spend your free time trapped indoors; create a living space designed just for you in your backyard! 
Country Garden's is your Indianapolis Outdoor Living Space Expert!
At Country Gardens, we can create a living space that is a natural extension of your home. To fully personalize your  space, it can be finished with stone, tile, pavers or other materials to complement your existing landscape. All features we build are custom to our clients needs.
Spending time outside does not mean you have to sacrifice the same comfort as you have inside your home. With a few minor changes or additions, you can turn your backyard into a comfortable and functional outdoor living space. Whether you want to add a stone patio, fireplace, pergola or a sitting area, we'll be with you every step of the way at Country Gardens. Not only will this be a rewarding experience, now you will be able to spend time with family and friends with the sun and fresh air amongst you.
Here are some Indianapolis Outdoor Living Space features that we can custom build just for you: 
Seating Areas
Outdoor Kitchens and Dining Areas
Conversation nooks
Fireplaces or Fire Pits
Outdoor grill
Pergolas
Trellises
Waterfalls
Masonry
Now that you have decided to expand on your design ideas for your new outdoor space, lets take a look at some features that may fit your outdoor needs.
Indianapolis Outdoor Living Space – Exactly what your home needs!
Seating Areas  
Extend your home's living space to create an area perfect for parties, family gatherings or a nice quiet evening after a long day of work. Adding an outdoor patio will create a place to relax and ample seating for you and your guests. We can also build conversation nooks, where you can have your morning coffee or read a book to relax and enjoy the fresh air. Our seating areas can be a custom stone patio/porch, comfortable seating around a cozy fireplace or potential seating near a pond or waterfall. We can also add seating to your custom built kitchen or dining area. These areas will be designed and installed based upon your needs. Schedule a consultation today to begin transforming the most comfortable seating for your Indianapolis outdoor living space.
Outdoor Kitchen and Dining Areas
An outdoor kitchen or dining area are popular design features we can incorporate to enhance the design and function of your outdoor living space. Custom-built kitchens are becoming more on-demand as barbecuing has become more then using the common stand-alone grill. When designing your outdoor kitchen for your home, we will install hook-ups for your gas, water and electric. You can also have shelves created to hold any items needed when entertaining in your new outdoor oasis. We will use most durable materials that will withstand any type of weather. Not only will these areas add excitement to your home, but also a return on investment as well. Contact us today to have your very own kitchen or dining area custom-built for your Indianapolis home!
Fireplaces or Fire Pits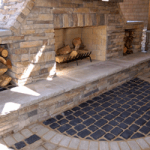 Outdoor fireplaces or fire pits can be the focal point of your Indianapolis outdoor living space. These features not only provide a unique feature and function, but also will provide warmth and comfort in all seasons. You can choose to install a convenient gas-burning fireplace, or we can custom build a wood burning masonry fireplace tailored to your design preferences. Fireplaces are a great addition to any backyard and will allow you to spend many enjoyable evenings outdoors. The maintenance of these features are low and do not require a lot of clean up either. Why not add one of these features to bring some light to your Indianapolis backyard.
Let's get started on your Indianapolis Outdoor Living Space!
Now it's time to make your dream a reality by creating the perfect outdoor space that is comfortable and inviting for you and your family. No matter what your budget or functionality might be, we will be sure to meet your design needs at Country Gardens.  Please feel free to browse all of our designs on our websites. If you have any questions or to get started on your living space today, please contact us at 317.339.7847 or email us at [email protected].