A Unique Westfield Landscaping Company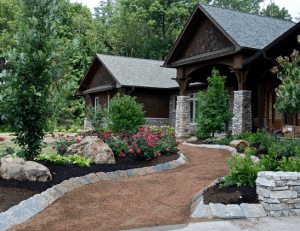 With Country Gardens as your Westfield landscaping company, we will create an outdoor living space on your Westfield property that you and your family can enjoy. We are a company who provides unique hardscape and softscape landscaping and creates ideas that are out the box ideas for our clients. Our landscaping company has been installing outdoor living spaces for over 10 years in the Indianapolis area, including Westfield and the surrounding areas. We focus on landscape
design
and will make your dreams become a reality in your very own Westfield backyard.
Designers with an Edge
At Country Gardens, you will get a unique experience for your Westfield landscaping needs. We are a one stop landscaping company for our clients that will create your visions using our state of the art technology. Our company has designers that are able to design and implement your landscaping ideas electronically using Computer-Aided Design (CAD) and Digital Photo Imaging (DPI).
Detailed Cad Designs our Westfield Landscaping Company uses:
Computer-aided design (CAD) is the use of a wide range of computer-based tools that assist engineers, architects and other design professionals in their design activities. Our company uses designs that are carefully labeled with real photographs of each plant or hardscape material to be used.
Digital Photo Imaging (DPI) is the process of taking a photograph and plugging in real photos of plants, trees, hardscapes from a computer based software. This process allows the customer to have a better understanding of how their landscaping project will look when completed by our company.
The process our Westfield landscaping company uses
When we create your landscaping project, you will have a visual of where all items will be placed with real photos of plants, trees and hardscapes. This let's our clients get a vision of what their project will look like and allow for any edits or changes made prior to installation. The number 1 goal of our company is to make sure our Westfield clients are happy with the end results. Once these are approved, internally we have our landscaping team begin the installation process. The transition from the design team to the installation process is an easy one, because all of our team works for the same company.
Our Westfield Landscaping Services:
Paver, Natural Stone and Concrete Patios, Travertine Patios
Arbors, Terraces & Pergolas, Pavilion Rooms
Driveways, Walkways & Retaining Walls, Stack Stone
Outdoor Kitchen and Living Areas
Rock & Perennial Gardens
Trees, Shrubs & Plantings
Pools, Ponds, Fountains & Water Features
Sod & Seeded Lawns
Low-Voltage Lighting
We pay attention to detail at our Westfield landscaping company! 
At our Westfield landscaping company, we pay close attention to detail and have a gallery of landscaping design results that reflect this. Country Garden's landscaping design strategy is unlike any other company in Westfield because we are original thinkers that are constantly looking for new and improved ways to be a step ahead of our competition. Our company custom builds all of our landscaping projects, so you will never see your feature or living spaces on another Westfield property.
Please review our Westfield Landscaping Company's testimonials from our  Houzz clients:
"We worked with Steve and his team on a project last spring. We have nothing but good things to say about there creativity and design options. We spend all summer in our outdoor living space and love it! Complete satisfaction and would hire again." – bdinvestment
"We recently had an in ground pool put in and hired this company to do all the landscaping around it along with an outdoor kitchen. I will post pictures later but we were extremely satisfied with CG Landscaping. The employees are very hard workers and Mr. Tillman, the owner did an excellent job drawing up our plans. We highly recommend them and will defiantly use them again in the future." – Jamie Moll
"Country Gardens provided a landscape design for our home that was nothing but exceptional. Our outdoor space is the talk of the neighborhood. Skilled craftsmanship and polite well qualified workers on staff. These guys are the best in Indy!" – design569
Here is a list of some of our certifications and awards of our company:
IICPI Certified
MCMA
2012 Orchard in Bloom
Contact our Westfield Landscaping Company Today!
Feel free to browse our company's gallery and check out any of our landscaping projects. We are confident that we will be able to accomplish your goals at your Westfield property. No matter what your budget or functionality might be, we will be sure to meet your landscaping design needs at Country Gardens. Please fill out this questionnaire to get started. If you have any questions or to get started on your landscaping today, please contact us at 317.339.7847 or email us at [email protected]. We look forward to becoming your next Westfield Landscaping Company.