Some of our paver options include:
Brick pavers
Concrete pavers
Flagstone pavers
Granite pavers
Limestone pavers
All of these materials have key features that make them great for your Indianapolis custom pergola:
Strong and durable – The lifespan on these pavers will withstand all types of weather and do not scratch easily
Low maintenance – Bricks just need a quick scrubbing, unlike wood which will need to be stained from time to time.
Diversified – They come in a variety of different patterns, engravings, stenciling and more.
Colorful – Concrete pavers come in a variety of color options to coordinate with the rest of your landscaping and home decor.
Repairable – If you choose interlocking paver stones it's easy to replace one stone with a new one if one gets damaged.
Water resistant – Stone pavers are highly resistant to water. Due to this, the water falls off the stone into the joints that help lock the stones into place even more.
Looking for a custom pavilion?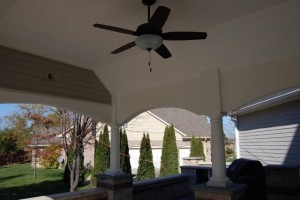 A pavilion adds instant beauty and structure to your existing deck or patio. You will be able to enjoy the outdoors during all types of weather by adding a pavilion to your yard. During the hot, sunny days, your custom pavilion will provide shade from the sun. If there is a rainy day, your custom pavilion adds protection while you are still able to sit on your deck or patio. These features can be built with materials such as wood, stone or vinyl. Contact us at 317.339.7847 to learn more about how to add a custom pavilion to your yard.
Pergolas or pavilions can be a completely standalone backyard structure or a variety of features can be added to compliment them.
Check out some of our other features we create at Country Gardens:
Paver, natural stone and concrete patios, travertine patios
Arbors, terraces & pergolas, pavilion rooms
Driveways, walkways & retaining walls, stack stone
Outdoor kitchens and living areas
Rock & perennial gardens
Trees, shrubs & plantings
Ponds, fountains & water features
Sod & seeded lawns
Low-voltage lighting
Your Indianapolis custom pergola can offer you:
Sun Protection: Pergola's provide shaded areas from the sun, the air under a pergola is much cooler as well.
Work of Art: Pergolas can provide more then shade, they are considered works of art for your Indianapolis outdoor living space and can add value to your property.
Added Garden Space: Are you running out of space for your plants or flowers? A custom pergola allows your plants such as ivy or roses to climb or grow upon it. You can still enjoy your beautiful landscaping while sitting under your new pergola.
Consultation
We will set up a consultation with you to find our the needs and desires of your Indianapolis custom pergola. We would like to know what functionality this will have in your yard. During your consultation we will address certain items such as materials, time frame and the installation process. We want to make sure you are aware of all items before we begin the design process.
Design
It's the attention to detail and self-imposed expectation to deliver the most unique and professional projects that separates us from the competition. We want you to enjoy and be happy with your Indianapolis custom pergola, along with the rest of your outdoor living space. Therefore, we design your custom pergola and bring this vision to life virtually using state of the art technology. We use photos of real plants, trees and hardscape so you can get the real feel of what your custom pergola will look like in your yard. To create these images we use Computer-aided design (CAD) and Digital Photo Imaging (DPI) computer based technology. Before any installation begins, you will have a visual of what to expect your Indianapolis custom pergola to look like.
On Time
Country Garden has the experience and expertise to design your custom pergola or pavilion and install them on time and within your budget. We know how important it is to have your pergola or pavilion finished on time and properly constructed. Therefore, we work with you to schedule the best possible dates and times for you.
No matter what your landscaping needs or desires may be, let Country Gardens be your one stop landscaping provider. Our custom pergolas and pavilions can provide enjoyment for the whole family. Contact us at 317.339.7847 or email us info@countrygardenslandscaping.com or request a free quote. Let us be your next Indianapolis landscaping company.